60 Years of Partnerships: Constable Kevin Goodmurphy's Story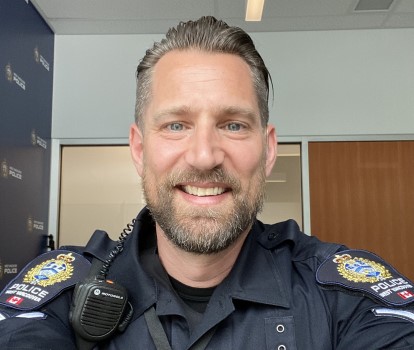 The day we spoke with Constable Kevin Goodmurphy, a 12-year police veteran of the West Vancouver Police Service (six years with West Vancouver Police, the previous six years with another agency), he was multitasking – navigating the interview with us, and a brewing protest march beginning to build on the famous Lionsgate Bridge that connects downtown Vancouver to what is commonly known as "The North Shore".
"It's all in a day's work," he says. "At any given point in time we can be dealing with a protest, a robbery, a disturbance of some kind, or someone who has wandered away from home."
It's that last item that keeps Constable Goodmurphy and his colleagues tied to MedicAlert through a special program called Connect Protect – a unique partnership between MedicAlert and 52 police services from across the country.
"The information we are able to get from the MedicAlert database about an individual with Alzheimer's or dementia is invaluable," he notes. "Where our police service is located, we are a smaller suburb of Vancouver. We have several nursing homes and long-term care facilities, so we see more than our fair share of people who wander. It's stressful for their families, and for us. Particularly because most will not have any identification with them. If we can identify someone and we are not able to get information from them that will help us to return them home safely, we spend hours trying to solve a puzzle with lots of missing pieces."
That's why the West Vancouver Police work hard to promote MedicAlert. "When people have the special blue MedicAlert bracelet, we know immediately what to do. In some cases, a person may have certain tendencies that sadly come with a dementia diagnosis, and our primary job is to make sure that the individual does not hurt themselves or anyone in their immediate surroundings. The MedicAlert database has great person-specific de-escalation techniques that help our officers to manage the situation more effectively and get that person safely home."
In fact, Constable Goodmurphy has a colleague who has had first-hand experience. A civilian member of the West Vancouver Police Service purchased a MedicAlert subscription and the special blue Alzheimer's ID for her father when he was first diagnosed so that he would become used to wearing it and see it in the same way he saw his watch – something to put on every day.
In this case, it worked. Just last year her father wandered away from home, but because of his MedicAlert ID, police were able to retrieve the information from the MedicAlert Subscriber Health Information Database and safely bring him to her.
"While I haven't had that direct an experience personally," says Constable Goodmurphy, "I was glad to know my colleague had a positive outcome. It's proof that our work with MedicAlert through Connect Protect works, and works really well."
As we began to wind down our call, Constable Goodmurphy was getting more frequent updates through his earpiece on the growing protest on the bridge.
"It's a stressful job, and it's been even more so in this past year given COVID," he says. "But we're good at talking through the stressors and making sure our officers are all ok. It's also great to have a partner like MedicAlert. You help us to serve our community even more effectively."