Pick the Plan that's best for you
In a health emergency, your life can rest in the hands of others. That's why your ID works together with a MedicAlert subscription service to provide the protection you need.
Your detailed Personal Health Record, reviewed and managed by internationally trained physicians, nurses, and other health professionals, is the information first responders rely on when seconds count.
MedicAlert is the ONLY emergency medical information service first responders trust every day.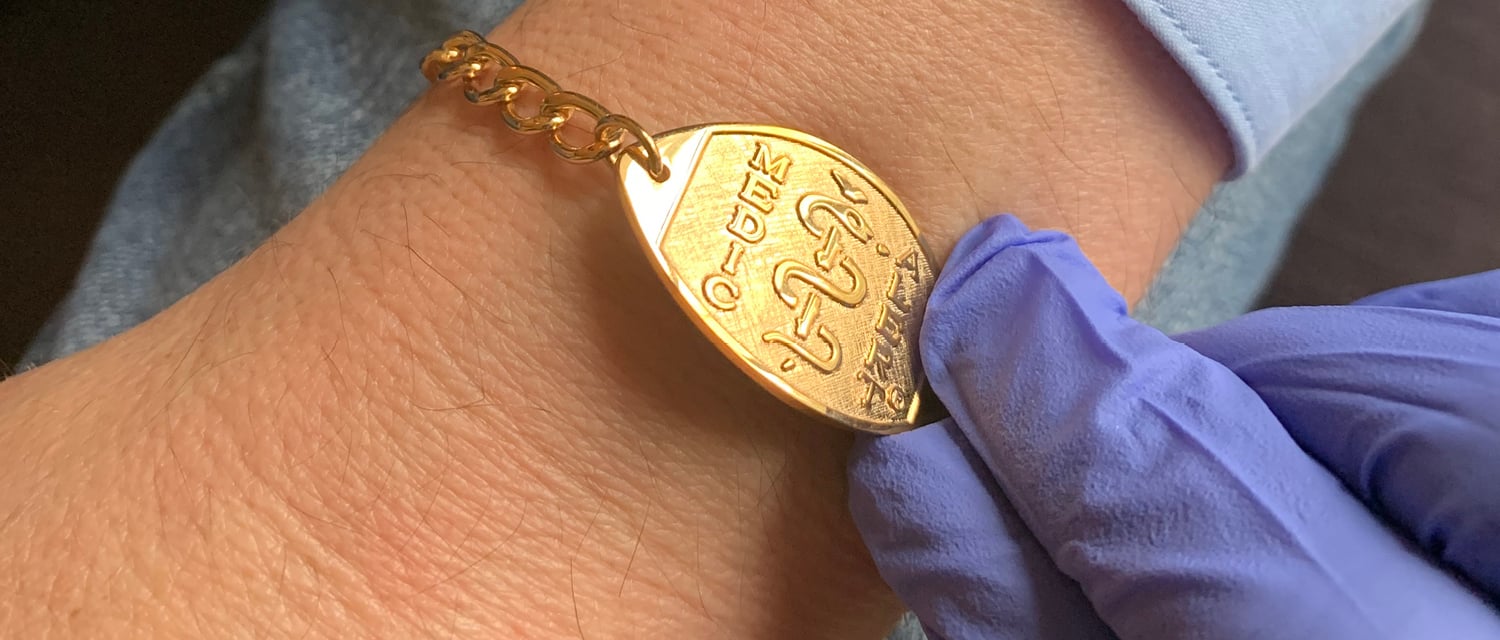 Our Service Plans
MedicAlert offers a variety of service plan options when you register. At the end of your initial term, your subscription will automatically renew. When you initially subscribe to MedicAlert there is a one-time activation fee of $75 which helps cover the costs of setting up and reviewing your Personal Health Information Record before it becomes available to first responders.
MedicAlert is so much more than an ID.

CHECK

First responders look for a MedicAlert ID at pulse points around your neck or wrist. Every year, we train thousands of first responders on our Look - Read - Call protocol.
IDENTIFY

Custom engraving on your ID alerts our first response partners to your conditions, illnesses, allergies, medications, or devices. Your unique subscriber number ensures that first responders have access to your full Personal Health Record when needed.

RESPOND

The MedicAlert Emergency Response Line staffed by our team gives 24/7 access to your in-depth health information when first responders need it. And if your community has our Connect Protect Program, then local 911 dispatch operators ensure that their teammates get your health information and can provide fast, fully-informed assistance to give you better care outcomes.
Personalized Record
Medically-validated 1,500+ data point Personal Health Record
Unlimited free updates to your record
24/7 Coverage
24/7 Response Team for emergency response
24/7 wandering support
24/7 de-escalation support
Notification Services
Family notification service
Physician notification service
Identification
Photographs for identification purposes
Condition-specific medical IDs (ask a MedicAlert Customer Service Representative)
First Responder Recognition
Connect Protect First Responder Program (available in certain areas)
Provincial No CPR Program (British Columbia only)
Exclusive Offers
Special programs and discounts with our partners
Custom content, including webinars with leading health experts from across Canada
Custom-developed education programs to support individuals living with a variety of health conditions
Research Opportunities
Opportunity to participate in health system research
Advocacy
Advocacy in support of people with chronic conditions