Back to Products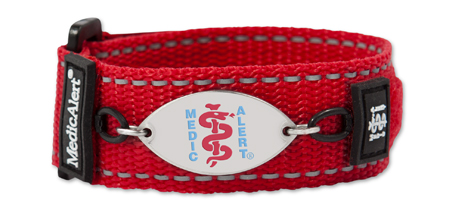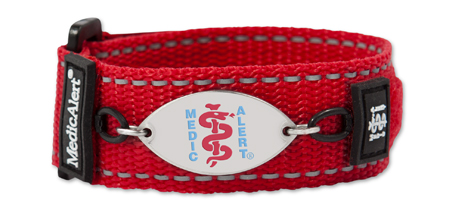 [IAP316] Autism Collection - Sporty Fierce Red
Product Details
A necessary accessory for your child, this MedicAlert Kids Sports Band offers flexibility and comfort.

Emergency responders are trained to instantly identify persons with autism through the signature MedicAlert autism emblem.

Note: Trace amounts of nickel can be found in all stainless steel products.
Sign Up
Login
Product Features
Product not for sale to children less than 3 years of age and not suitable for less than 10 years of age.
Warranty
Products, excluding Precious Metals Products, come with a 60-day warranty beginning on the date the Subscriber purchases the Product. Precious Metals Products, come with a 1-year warranty beginning on the date the Subscriber purchases them. Precious Metals Products means a MedicAlert ID manufactured from Sterling Silver, Copper, Gold and Pearls and Beads with Sterling Silver Emblem.
Subscribers are responsible for paying the shipping costs to return the product to MedicAlert.
Please review the purchased items carefully for any defects or errors and report them to us within 10 days. Warranty shall be void if the products have been repaired by anyone other than our skilled jewelry team.
Warranty does not cover the following:
Damage resulting from normal wear and tear, accidental damage or breakage, misuse or alteration
Tarnishing or scratching of the emblem, chain and attachments
Leather blemishes naturally found on leather products
Loss of any kind
Watch batteries
Resizing
We offer 1 free resizing on bracelet chains that are available in multiple sizes within 30 days from the date of shipment. After 30 days, a resizing fee will apply and subscribers are responsible for shipping the product to MedicAlert for resizing.
Return Policy
Customized engraving of medical information on the emblem prevent MedicAlert from offering any refunds on identification products.
Shipping
Stainless steel products usually ship within 2-3 weeks.
Silver and gold products usually ship within 3-4 weeks.
Please allow 5-9 business days for Canada Post standard shipping and 2-3 business days for courier shipping*.
*Speed as shown on CanadaPost.ca. Business days, between major urban centres in Canada. Some exceptions apply.
Sizing Notes:
Measure your wrist and select according to available sizes:
Large 9 ½" – fits 8" to 9 ½"
Measuring Instructions:
Use a cloth ruler or a ruler and a string to measure your wrist. Left and right wrist size may vary, be sure to measure the wrist you intend to wear your bracelet on.
[IAP316] Autism Collection - Sporty Fierce Red
was successfully added to your cart.
Take me to my Cart