Cadence's Story: No Child Without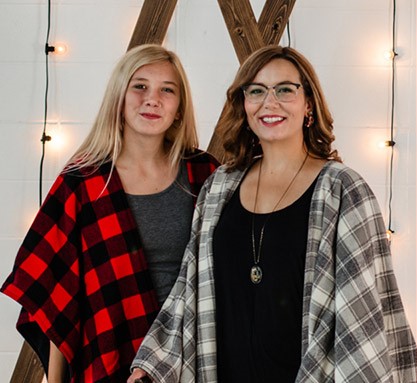 It's a busy day in Kyrie Herman's household. Emotions are high as her husband Adam is working remotely while living with chronic pain, and their children Cadence, 14 and Holden, 11 are schooling remotely as they have recently tested positive for COVID-19.
Kyrie coughs into the phone receiver. "We're currently isolating as both children have contracted COVID-19, and now I'm starting to develop COVID-19 symptoms and will need to get a test this afternoon."
It's especially hard for Kyrie and Cadence as they both live with a connective tissue disorder known as Ehlers-Danlos syndrome. The disorder affects the skin, joints and the blood vessel walls in the body.
"The severity of Ehlers-Danlos varies", Kyrie says. "For myself I have severe muscle weakness from this disease which has impacted my vocal-chords making them very weak. At the best of times, I have difficulty breathing to the point where I'm literally gasping for air."
Ehlers-Danlos is associated with a variety of genetic causes, some of which are inherited and passed on from parent to child. The most common form, hypermobile Ehlers-Danlos syndrome, means there's a 50% chance of passing the gene on, which is exactly what happened to Kyrie and Cadence.
"I've lived with this syndrome for most of my life, and it's heartbreaking to learn that your daughter has also inherited this debilitating disease. This is something that no parent wants for their children. You dream of them living a healthy and carefree life – Cadence is battling with this syndrome at the same severity I am and she's 25 years younger than I am."
Overwhelmed with grief and struggling to make sense of how to best manage and care for their family, Kyrie and Adam searched online to find resources to help them.
"I first learnt about the No Child Without Program after signing myself up to MedicAlert 4 years ago. I've had too many close calls where I was unable to speak and as severity of Cadence's health ailments progressed, I knew that it was only a matter of time before she too could be at risk."
Cadence also lives with a variety of allergies and has an extreme reaction to the cold.
"Living in northern Alberta where the temperature can get to -30C, means we're on high-alert. She can't go outside most of the year and it's become so bad that even frozen popsicles can affect her body and she'll faint."
Most recently, Cadence was at the local community pool when she had an allergic reaction due to the cold temperature of the pool. Not only did she faint, but she fainted in one of the most dangerous ways a person can – in the water.
The emotion cracks in Kyrie's voice as she relives the day.
"How do you even begin to process hearing that your daughter has fainted while in a pool, without her family close by who knows everything about her health conditions? She's 14 years old and needs her own independence, but how can I make sure she's going to be ok when I'm not there?"
Fortunately, Kyrie had signed Cadence up to MedicAlert's No Child Without Program a year before the pool fainting incident.
"Knowing that she was wearing her MedicAlert ID certainly gave me a lot of relief. I'm so grateful her friends were close by to help, but they're not all experienced in knowing what the tell-tale signs are. It's a huge risk and I could never forgive myself if anything happened. I'm her mother and I'm going to do everything I can to give her the best opportunity and care in this life."
The No Child Without Program gives children across Canada access to a MedicAlert ID. It's this program that was able to help Cadence when she needed it the most, but more children who are living with severe health conditions need it too.
"It breaks my heart to think of a parent who is unable to afford a MedicAlert ID for their sick child. I'm grateful Cadence is a recipient of the program and as her MedicAlert ID gives me peace of mind whenever she's away from home." I just hope more families like mine can get access to have the same relief I have."