Family Values: How MedicAlert brings one family together in the face of Alzheimer's and dementia

It's the middle of the afternoon, and Mario and his friends from the York Region Adult Day Program are making their way across the parking lot to the Mother of Carmel Childcare Centre for their weekly visit with the children. Mario won't remember today's visit, but the joy he experiences is enough to make his children, Tina and Guido, smile.
Four years ago, Mario, who is now 88, was diagnosed with Alzheimer's and dementia. It runs in his family, although it didn't impact his twin brother Orlando, who comes to visit him often.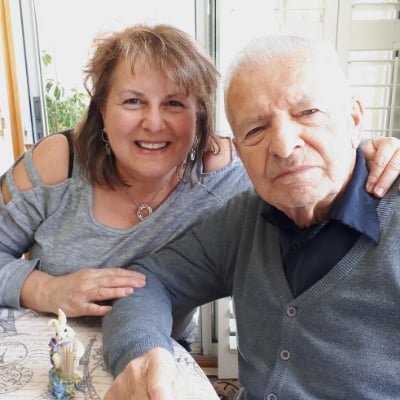 Mario's diagnosis has been both a challenge and an opportunity, according to Tina. Her father was a construction foreman for the City of Toronto and managed a crew of snowplough/sidewalk operators. "He knows the city like the back of his hand," she says, "My dad never got lost, so it was very surprising when he asked for a GPS for the car for his 75th birthday."
It's the little things that Tina noticed first, like Mario misplacing his keys or heading out for an errand and forgetting what he was doing. She recalls one instance where her father took a trip to Costco and was gone for much longer than expected. "He came back with two boxes of Cheerios, which was not what he went for in the first place, and it was a cereal he'd never eaten before."
After Mario's diagnosis in 2019, Tina saw a rapid decline in her father's memory. He also began exit-seeking behaviour, and no longer recognized his home when going out for nightly walks in the neighbourhood. "We got alarms for the doors and extra locks, but it became a lot for my mother to manage."
Tina's older son, Roberto, is a Reservist in the Canadian military and is especially close with Mario. From 2015, he lived with his grandfather and remembers how Mario used to repair just about anything, and taught him to make wine and tend to the garden. After getting deployed in early 2020, Roberto recalls his grandfather's excitement at seeing him on video calls, and the sharp decline he noticed in Mario upon his return just a year later.
After coming back, Roberto made a tough decision to purchase his own home. That's why a little over a year ago, Tina, her husband, and her younger son decided it was time to sell their home in Nobleton and move in with her parents in Maple, Ontario. They chose to ensure that her father would be surrounded by people who loved and cared for him, and to give her mother some respite.
It was shortly thereafter that Tina decided it was time for MedicAlert. "I had been taking courses and learning as much as I could about dementia and Alzheimer's," she says. "My father became very particular about what he would wear, so I knew a GPS monitor attached to his clothing wasn't the right solution. And while he did try to remove the MedicAlert ID at first because he didn't know what it was, we were pleasantly surprised that he could not."
Today, Tina says Mario treats his MedicAlert ID like a watch. While the purpose of his Safe & Found blue ID isn't clear to him, it gives Tina and her family significant peace of mind.
As a retired software specialist, Tina is also excited by MedicAlert's investment in research related to wandering. "I know the data about my father's exiting and wandering patterns are important to us as a family. Multiply that by the thousands of people MedicAlert helps through the Safe & Found Program, and the potential becomes exponential."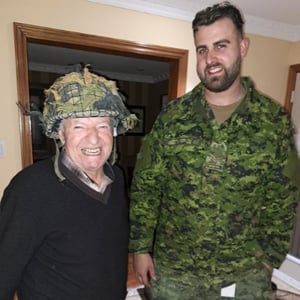 As Tina ponders the possibilities for the new technology advancements MedicAlert is exploring, she pauses and smiles. The big picture is exciting, but it's the smaller things that have the most meaning—things like family gatherings when Roberto comes over, and enjoying homemade Italian food together. Roberto used to swap stories with Mario, who was in the Italian army many years ago, and they would bond over their shared commitment of service to their country.
"My dad's eyes light up whenever he sees Roberto. He never forgets his name. And Roberto is very protective of him. Like MedicAlert, he is part of what keeps my dad safe."