60 Years of Saving Lives: Ann's Story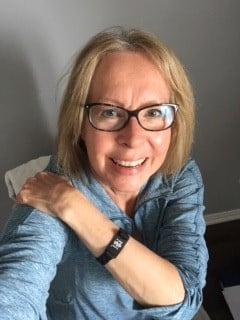 To hear Ann describe it, the last five years has been a long haul. Sadly, the retired portfolio accounting manager lost her husband, Steve, in 2016. In 2017, she faced some health challenges of her own that resulted in complicated, daunting heart surgery.
Following the surgery, Ann was put on blood thinners to help with her condition. After 35 years of marriage, Ann felt the weight of Steve not being at her side. She worried about what might happen if she were suddenly to be in a situation where Steve was not there to be her voice.
"I have wonderful neighbours and a community of support, but they are not always going to be there in an emergency. I was a bit worried if anything were to happen."
That's when Ann turned to a familiar name – MedicAlert. "I'd never really thought about it before my heart surgery. But everyone knows MedicAlert, and my brother was a subscriber long before me."
So, Ann made the call.
"I am so glad I did," she says. "The staff are so knowledgeable and pleasant. I didn't know when I called that the person helping me with my medical information and the information that should go on my bracelet was an internationally trained physician. She was so patient and helpful. Now knowing that she truly understood my circumstances given her medical training gives me even greater peace-of-mind that I am in good hands with MedicAlert."
Ann always wears her MedicAlert bracelet to ensure her condition is accessible by the medical community should the need arise. "It really gives me peace-of-mind. I have two children and three grandchildren. I am so blessed! They are grateful that I have my MedicAlert bracelet and service so that, no matter where I am, my medical history is with me."
Not that long ago, Ann truly felt what that that peace-of-mind means to her when she accidentally lost her MedicAlert ID while vacationing at her trailer. "It fell through the gap in my deck, and there was no way for me to retrieve it. I instantly thought, 'what am I going to do without it?'," she says. " I was on the phone immediately to order a new one. I thought it would be a couple of weeks before my new ID arrived, and each day I truly felt the weight of not having the visible sign of my MedicAlert protection. I was grateful when my new bracelet arrived in only five days."
In fact, the experience of losing her ID made her think it might be a good idea to have a back-up. So, she called into the MedicAlert Customer Care Centre to place her order and heard a familiar voice on the other end of the line. "I was so surprised that the MedicAlert service representative [Camille] recognized me. But she immediately did. The fact that she knew who I was gave me instant comfort."
It was in that moment that Ann decided she'd donate to MedicAlert's No Child Without Program. "MedicAlert has given me such peace-of-mind, I wanted to pass that same feeling along to a family who may not be able to subscribe to MedicAlert due to their circumstances," she says.
"Yes, the last five years have been a long haul for me, but things are getting easier, and MedicAlert has played an important part in my healing."