Uche's story: Having MedicAlert as my safe-keeper is such a relief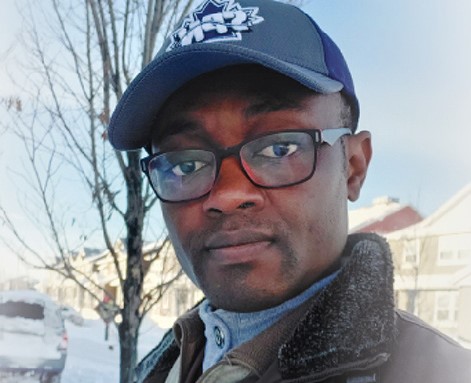 "Back in Nigeria, I wouldn't have this type of support. It's comforting to know I have access to a MedicAlert subscription thanks to caring MedicAlert donors.
Uche is a new immigrant to Canada. Bravely, he struck out on his own to start a brand new life in Calgary, Alberta in 2018.
"I moved to Canada as there are greater opportunities here, and I wanted to provide a better life for my family. In Nigeria I worked in the mechanical engineering industry, and I also started an education organization aimed to teach children coding to improve their skills. Since moving to Canada I've worked as a Warehouse Worker and then moved into a Mechanical Technician role. I love making things and playing around with different technology."
Things were looking up for Uche, and then the global pandemic hit in March 2019, resulting in his job loss and loss of the community he had built through his work colleagues.
"I live alone. My family isn't able to move to Canada yet, and I'm separated from them by continents, time zones, and thousands of kilometers. It has been very challenging to meet people as a new immigrant, understand the Canadian culture, and now with COVID-19, it's become even harder. I'm so alone."
Living in insolation and not having a support network close by, has taken a significant toll on Uche's mental health.
"Last year, I was getting really depressed. I felt irritable and would have waves of frustration, sadness and anger because the pandemic caused me to lose my job and has made it even harder to apply for Permanent Residency. It's been difficult to socialize and meet people during the pandemic. I just want to hang out with my friends and be with my family. On top of that, I started feeling sick and was having some allergic reactions to food and aspirin."
After visiting his family doctor, Uche was diagnosed with a glucose-6-phosphate dehydrogenase (G6PD) deficiency - an inherited condition where the body doesn't have enough of the G6PD enzyme which helps red blood cells work correctly. A lack of this enzyme can cause hemolytic anemia, and in severe cases, it can even lead to kidney failure or death.
"Receiving that diagnosis was scary. I'm fortunate to have a supportive family doctor who recommended I wear a MedicAlert ID in case I had an allergic reaction or a medical emergency due to G6PD. There was just one issue – I was worried I wouldn't be able to make payments due to my financial situation."
After assessing Uche's situation, he was provided support through MedicAlert's Inclusion, Diversity and Equity in Action Program.
"Having MedicAlert as my safe-keeper is such a relief. God forbid if anything should happen, I know I'll be protected by MedicAlert in an emergency crisis."