60 Years of Saving Lives: Nolan's Story
He calls it his "MedicAlert bling." His mom calls it a life-saver.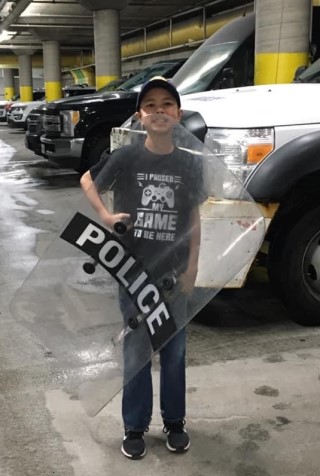 For thirteen-and-a-half of his fourteen years, Nolan has sported – or "rocked" as he likes to say – a classic stainless steel MedicAlert bracelet. "I've tried the sport bands, the youth bracelets and other styles, but this is the only one Nolan will wear," says mom Michelle.
Regardless of the type of ID Nolan chooses to wear, it's the fact that he has one that provides the peace-of-mind his mom needs.
When Nolan was just six months old he had a severe food allergy reaction, one that landed him in the hospital. That was just the beginning of Nolan's health journey. Over time his parents uncovered a host of food and environmental allergens that caused an anaphylactic reaction in Nolan – an extreme, often fatal, response that that can cause skin rashes, itching and hives, swelling of the lips, tongue or throat, shortness of breath, trouble breathing, wheezing and more. It is extremely challenging to recognize in infants where the signs are subtler and the child cannot express what may be happening.
Nolan's challenges with his allergies were further amplified when Michelle learned that he has autism. "When he was little, his speech was delayed. So I know when he got to school that communicating if something was wrong would be a struggle for him."
Over time, Nolan's learned a lot about self-advocacy and making sure his teachers and classmates know about his allergies. In fact, during COVID, even though Nolan is not in the classroom, Michelle still takes the time to work with Nolan on what his ID says and how he should show his ID to people to they can understand he needs that extra help and support if something should happen.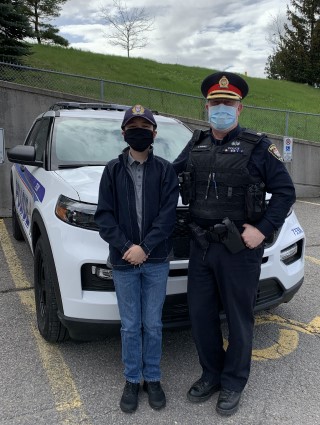 Nolan is a huge champion for MedicAlert's Connect Protect and Autism Programs – partnerships that ensure that police have that extra bit of information to help them de-escalate and protect someone with autism who may encounter a set of circumstances that put them at risk of harm.
In fact, last fall, Nolan was treated to a special day with Ottawa Police Services to thank him for his support for their work in keeping people safe. Nolan was Acting Superintendent Rob Bernier's partner for the day which included a tour of the 911 Communications Centre, a ride-along in a police car and special meetings with frontline officers who shared some of their MedicAlert stories.
"It was such a special treat for Nolan who enjoyed ever bit of the experience," says Michelle. "MedicAlert has been such an important part of Nolan's life for so long, and this visit with Ottawa Police Services helped him to connect the dots between his bracelet and the work police don in partnership with the team at MedicAlert."
Thank you, Nolan and Michelle, for being such strong champions for MedicAlert. Keep wearing your MedicAlert bling!