Sarah's Story: 60 Years of Saving Lives
Look past the purple hair, the peacocks and the pigs in her backyard farm as she calls it, and you will find a respected Canadian military veteran who wears her MedicAlert ID as proudly as she wears any service medal.
Her name is Sarah.
Sarah first became a MedicAlert subscriber nearly 20 years ago. Then, in 2006, as Sarah was in the midst of pre-deployment training, when she had an horrific accident. Wearing full military gear – an extra 80 lbs added to her relatively small frame -- she jumped off the back of a truck. As she landed, she crushed her spine and her hips. In an instant, her military career was over, but her journey to recovery was just beginning.
After multiple surgeries, gains and setbacks, Sarah was ultimately diagnosed with Postural Orthostatic Tachycardia Syndrome (POTS). POTS is a form of dysautonomia — a disorder of the autonomic nervous system typically cause by trauma. This branch of the nervous system regulates functions we don't consciously control, such as heart rate, blood pressure, sweating and body temperature. The key characteristics of POTS are the specific symptoms and the exaggerated increase in heart rate when standing. Sarah can collapse at any time and is at greater risk of a heart attack or stroke.
POTS can be life-changing. It certainly was for Sarah. A single mom with a young son on the autism spectrum, Sarah faced more than health challenges. She faced a battery of worries. One of the biggest risks for people with POTS is falls due to fainting. Sarah was concerned about this because she wasn't sure who would be her voice if she happened to fall and hurt herself and was unable to speak.
It was Apollo, her 125 pound German Sheppard service dog, and MedicAlert to the rescue.
"I had a choice after my accident," says Sarah. "I could be bitter, or I could be better. I chose better."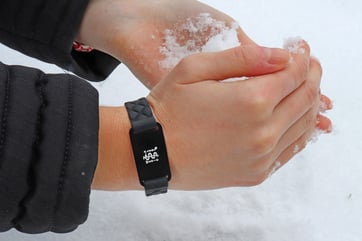 Sarah likes to call herself a walking billboard. "I have my MedicAlert ID on my wrist at all times. I never take it off even in the shower where I am actually at a higher risk of collapsing since higher temperatures affect my condition. I also made a pouch for Apollo that he wears all the time. It says, 'my owner's MedicAlert information is inside' and that's where I put my wallet card that has all of the details of my health conditions. I even had a dog tag made for Apollo that says that I am a MedicAlert subscriber. There is no way any first responder can miss this information! It's helped me on so many occasions."
Sarah's passion for MedicAlert and the peace-of-mind it gives to her has spilled over into other areas of her life. She teaches first aid and ensures that all her students are aware of MedicAlert and the need to look for a MedicAlert ID when they are checking someone's pulse.
She also is an active volunteer in her community of Kemptville, about 30 minutes south of Ottawa and has made MedicAlert part of her initiatives.
"I give suitcases to Children's Aid for kids moving into foster care," she says. "They suitcases give the kids a bit more dignity than the garbage bags that they usually use to take their belongings to their new homes. I fill the suitcases with little comforts like colouring books or teddy bears, and the necessities like toothbrushes, toothpaste, towels and, of course, MedicAlert."
Sarah's even working with a friend to build something called the Invisible Injuries and Illness Initiative (Four Is for short). "To look at me, or other people with illnesses you can't see, it's hard for people to really understand the challenges we overcome on a daily basis. A lot of time people don't believe you, and they treat you differently. By helping spread awareness, my hope is to help create more empathy for people with invisible conditions. MedicAlert is one of the tools that helps us in this work."
For Sarah, having MedicAlert is a "no-brainer." She notes that people who have health conditions can't afford to live with "what ifs."
"I'm not sure if people truly understand how affordable it is. When it comes to your health and well-being $5 a month is certainly worth it."
And for those who truly can't afford it, Sarah's philosophy is to pay it forward. "Every time I call to update my health information or renew my service, I donate so that someone else can have the benefit of MedicAlert. You will not find a subscriber that would not say it hasn't saved their life at some point. So, I think everyone should be able to have it."