Finding Security and Peace of Mind with MedicAlert: Joan's Journey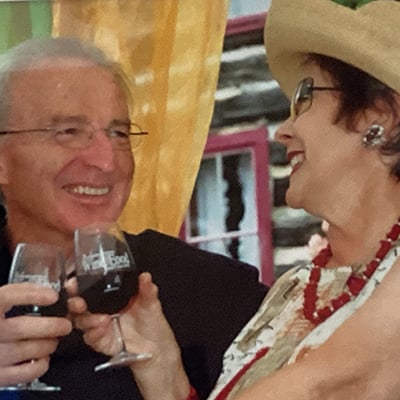 When Joan's husband Frank was diagnosed with dementia in 2006, her world took an unexpected turn. Unsure of what to expect from Frank's diagnosis, Joan sought guidance and support from the Alzheimer's Society. It was through her Alzheimer support group, she learned about MedicAlert, which she viewed as 'an insurance policy' for the future.
As Frank's dementia progressed, he began to wander. The unpredictability of these incidents left Joan in a state of panic, comparing it to the feeling of losing a child. "There's no warning—all of a sudden, he would be at home and the next minute, he was gone. It was the worst feeling. I didn't know what to do and where to begin," Joan explained.
One time, it became apparent just how crucial and lifesaving having a MedicAlert subscription was. Unbeknownst to Joan, Frank decided to drive from their hometown in Coboconk, Ontario to Toronto to visit their daughter. No one knew where he was, and concern gave way to fear. Joan reached out to the Ontario Provincial Police (OPP), providing them with her husband's MedicAlert ID number. Thankfully, the OPP was able to find him and bring him back home safely.
Joan realized that having MedicAlert was much more than an insurance policy. "MedicAlert provided me with peace of mind and a vital lifeline in a time of uncertainty. It was really reassuring, knowing that MedicAlert was here to help me," Joan expressed with gratitude.
Joan's experience led her to be an advocate for MedicAlert. She's recommended MedicAlert to friends, family, her Alzheimer's support groups and community, highlighting the importance of having a safety net in place.
Her dedication to advocating for MedicAlert has had a positive impact on many people. In particular, Joan recalls a fellow caregiver, who was concerned about her own husband's wandering. She followed Joan's advice and subscribed her husband to MedicAlert's Safe & Found Program. The woman was elated to learn about the invaluable protection having MedicAlert provided. "She had a sense of comfort knowing she has support if her husband wanders," Joan proudly stated.
Despite the emotional weight of her journey, Joan's experience with dementia and MedicAlert allows her to offer empathy and support to other caregivers. "I know what they're going through. If I can be an ear and provide recommendations to help make their lives easier, such as subscribing to MedicAlert, then I've done my job."