Surrounded by love, safe with MedicAlert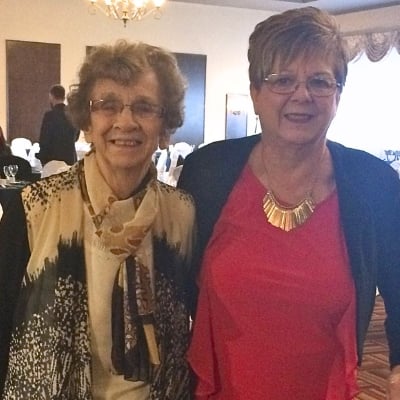 At 91, Bernice is happiest when she has chocolate and a bingo scratcher—two things her daughter Gail makes sure her mother never goes without. Despite her diagnosis of dementia in 2015 and having almost all of her short-term memory disappear, Bernice is still happy and healthy. Her focus tends to be on the same questions about the month and the weather, no matter which member of her large, multigenerational family is visiting.
For Gail, a retired public servant and the eldest of Bernice's seven children, the diagnosis of dementia meant rallying the troops and getting MedicAlert for her mother. In the early years of Bernice's diagnosis, she lived independently in a small apartment built on the back of her son's home in Ottawa. While her mother never showed signs of wandering, there was always the lingering question of "what if?" in Gail's mind.
"Having MedicAlert gave us peace of mind then and it still does today, even though Mom is in a long-term care facility," says Gail.
After a 3-year-long wait, the family was able to move Bernice into long-term care just before the pandemic. As the COVID-19 pandemic spread, for the first time ever, Gail and her siblings didn't have the immediate ability to be their mother's voice in case there was an issue.
"The first year of the pandemic was very stressful," she notes. "We were reading stories about outbreaks in long-term care homes. There was confusing and often conflicting information, no vaccines, and of course as an elderly person, she was vulnerable. But we were lucky. My mother's facility did not have an outbreak until much later, and even then it was contained. By then, the team at the facility had developed really strong lines of communication with the families."
While the pandemic was distressing, Gail and her siblings knew that keeping her mother's MedicAlert personal health record up to date was one way that they could keep her safe if an outbreak were to happen. That's because first responders would have instant access to her health information amidst the potential chaos of a COVID-19 outbreak.
Today, with the challenges of COVID behind them, Bernice's busy family—which also includes 12 grandchildren and seven great-grandchildren—is still very active in ensuring she is engaged in as many activities as possible that keep her connected to others. Whether it's arts and crafts or the "choir" led by a music intern who comes to the home weekly, Bernice is surrounded by joy, laughter, and people who love her.
She is also safe and secure thanks to MedicAlert. "We had no control over the disease, but this is something we could control. This is something we could use to protect her and ourselves," Gail remembers. "MedicAlert is a worthwhile expense. And she's never taken her MedicAlert ID off since the day we put it on her."